Aruba Instant-On for Small Business

Business Wi-Fi that works as hard as you do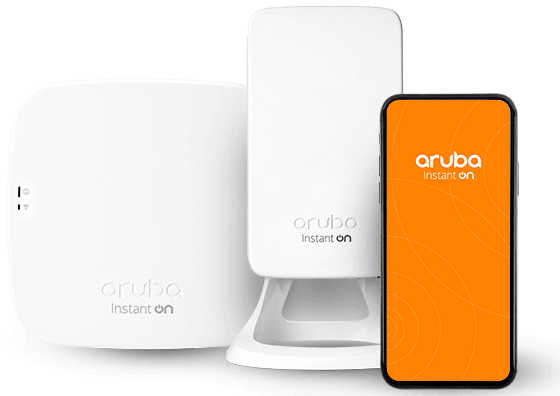 Cross "fix Wi-Fi" off your to-do list for good
Your business depends on technologies, people, and processes coming together. Your Wi-Fi network is what makes it all work. Get Wi-Fi purpose-built for business that just works-reliably, securely, and remarkably simply, right out of the box. Welcome to Aruba Instant On.
---
Speed. Simplicity. Security. Get all three.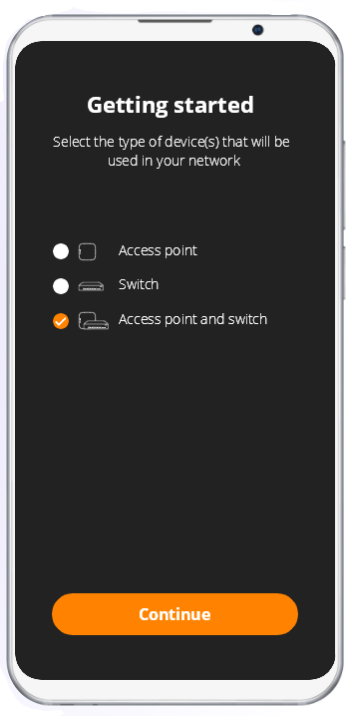 How your Wi-Fi network works
Various criteria impact the best setup for your space. If you want to extend coverage or want a stronger signal in an area, add more Wi-Fi access points anytime.
Set yourself up for success
See three different setup scenarios.
Light Use: Clinic
When data security is priority one, Aruba Instant On delivers. Set up a guest network and decide if there are apps or site categories you want to block. You can also create multiple networks within your business, separating office admin from POS and billing, for instance, to further secure sensitive information. Know you're protected with all the security you need-no subscription, licensing fees, or additional equipment needed.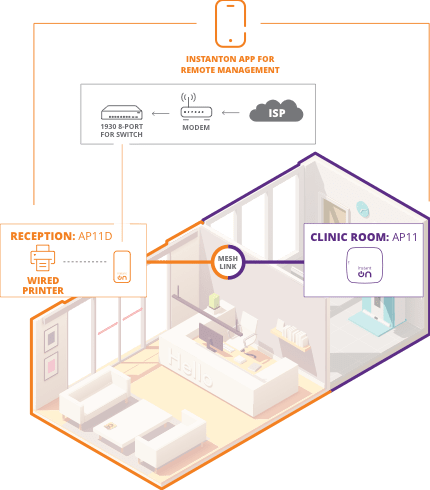 Indoor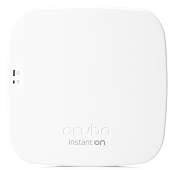 Aruba Instant On AP11
Wi-Fi 5
Supports up to 50 active devices
Mount this access point on a ceiling or wall for strong, secure coverage across your space.
Indoor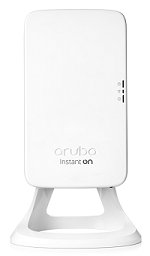 Aruba Instant On AP11D
Supports up to 50 active devices
Want flexibility and portability? This easy-to-move access point sits on a desktop or shelf.
Medium Use: Cafe with patio
Your customers (and their devices) coming in and out, employees' phones, your remote POS system, speakers, thermostats, and smart appliances-it all adds up to a lot of activity, all at once, on your network.
The right network gives you great coverage, indoors and out. Adding a switch lets you plug in devices via ethernet cable, like your surveillance cameras. Set up your network to only be available during business hours for added security.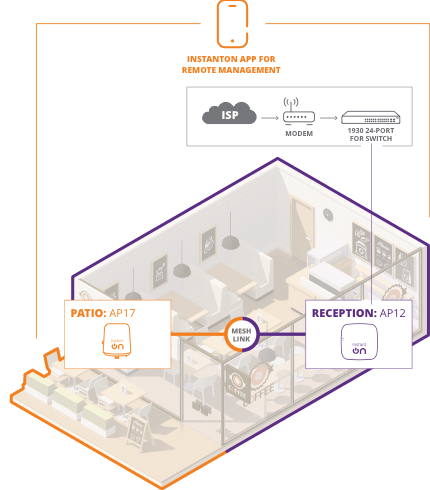 Indoor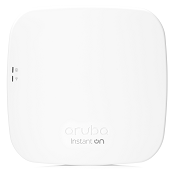 Aruba Instant On AP12
Wi-Fi 5
Supports up to 75 active devices
Send fast, reliable coverage throughout your space with this ceiling- or wall-mounted access point ready for serious traffic.
Indoor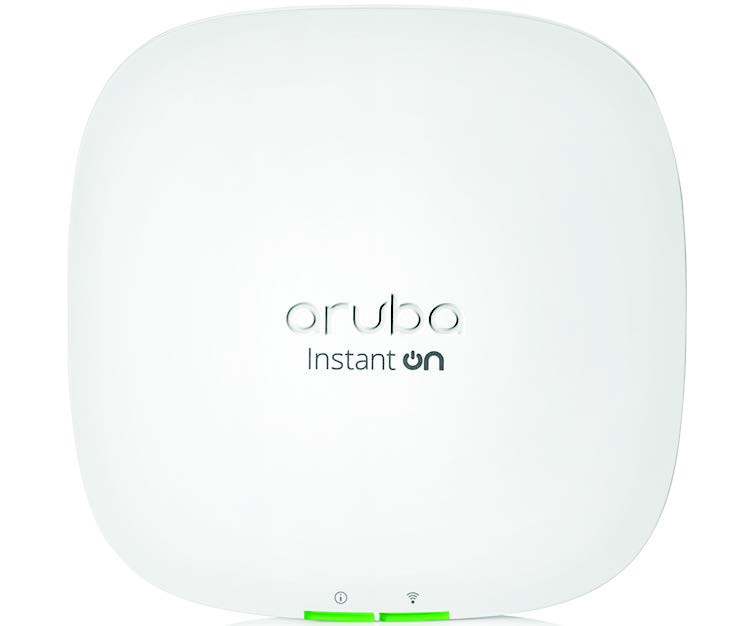 Aruba Instant On AP22
Wi-Fi 6
Supports up to 75 active devices
End lag and dropped video calls. If you're setting up a new network, get the fast Wi-Fi you need today-one that's ready for tomorrow.
Wired Devices

Aruba Instant On 1830 24-port Switch
Comes in 8-, 24- and 48-port configurations
Get the most value for your investment with cost-effective smart-managed switches to connect your access points, surveillance cameras and other wired devices.
Heavy Use: Hotel with outdoor courtyard
Even a small hotel has big Wi-Fi needs. Business travelers are on video calls. Families are streaming video to smart TVs in their rooms. Employees are using the reservation system and VOIP phones. Security cameras, POS, thermostats, and smart locks? They're all connecting too.
Accommodate them all, easily, with Aruba Instant On. Create separate guest and business networks. Enable wireless access to guest tools, such as printers. Enjoy automatic prioritization of video and voice calls. Know you're automatically protected by the latest security-without added fees or equipment.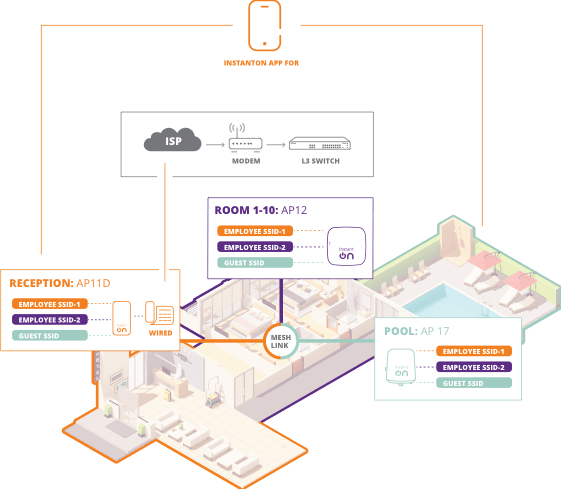 Indoor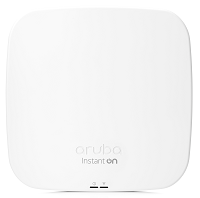 Aruba Instant On AP15
Wi-Fi 5
Supports up to 100 active devices
Provide your customers, employees, and internal systems with a network built specifically for many devices competing for bandwidth.
Outdoor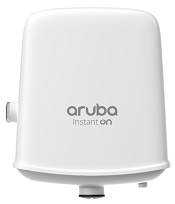 Aruba Instant On AP17 (outdoor coverage)
Wi-Fi 5
Supports up to 50 active devices
Easily extend your network outside with an outdoor access point built for -40° C to +50° C (-40° F to +122° F)
---
Considerations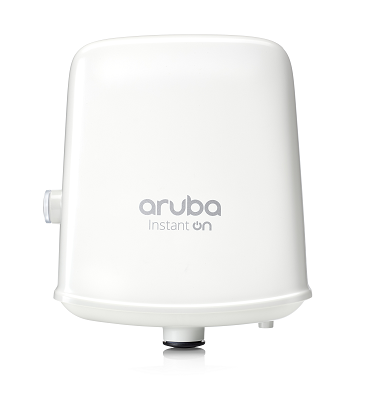 Consider an outdoor wireless access point that's built to withstand temps of -40°C to +50°C (-40°F to +122°F)
AP17
Wi-Fi 5
50 max active devices
You may need a network switch to incorporate devices without Wi-Fi capability into your wireless network, like an Ethernet security camera, printer, or payment processor. Plug a switch directly into the cable that brings internet service into your space for the fastest speeds without interference. Adding and managing a switch is simple with the Aruba Instant On App.
Aruba Instant On access points replace a typical router. Just plug an Aruba Instant On access point into the cable that brings the internet into your business to enable your Wi-Fi network.
Get all the hardware and security your network needs, with no subscription or licensing fees. Grow your network as your business grows. Start strong with included hardware coverage and 24/7 concierge-level phone support.

24-month warranty for access points

Limited lifetime warranty for switches

24 X 7 telephone support for the first 90 days



Free next-business-day shipping for all replacement parts
Want to learn more about Aruba Instant On for business?