Aruba Campus core and data center switches

Enable secure, seamless connectivity

Find the right campus core or data center switch for you

Choose from the supremely scalable to those for more demanding environments.
The difference in Aruba campus core and data center switches
Here's how Aruba bring performance, simplicity, and peace of mind to the center of your network.

Simplified IT operations
Simplify network design, management, and ongoing IT operations with modern, cloud-native architecture and switching platforms.

Accelerated service provisioning
Speed up infrastructure provisioning with software-defined fabric automation and orchestration. Integrate into your existing IT operational frameworks with ease.

Increased visibility and control
Get real-time, network-wide visibility with analytics in every switch. Troubleshoot and fix problems faster. Automatically detect and dynamically solve network issues before your business is impacted with Aruba AIOps.
Accelerate and simplify your transition to hybrid cloud
Discover networking solutions for the evolving data center.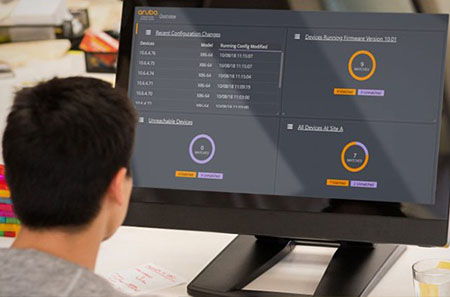 Aruba CX switching delivers cutting-edge hardware, intuitive management tools, and an operating system built on cloud-native design principles for evolving data centers.
Simplify the management of your network, enjoy turnkey automation with Aruba NetEdit, and enable the use of orchestration tools and custom software with full programmability.
Perform intelligent monitoring, detect problems in real time, and predict security and performance issues with an integrated Network Analytics Engine (NAE). Available in every Aruba CX switch.