Aruba AS-100 Wireless Sensor

Multivendor, Remote management for Aruba Bluetooth Low Energy Beacons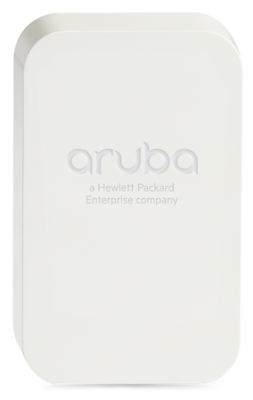 Overview:
Aruba Mobile Engagement enables venues to engage with visitors' mobile devices using Aruba Beacons powered by Bluetooth Low Energy (BLE) and the Meridian mobile-app platform. With Aruba Sensor (AS-100), Aruba, a Hewlett Packard Enterprise company, is now opening up its solution to additional Wi-Fi networks to create a complete offering for all public-venue customers.
The Aruba Sensor is a small, dual-band 802.11n client radio and a BLE radio that can act as an additional Aruba Beacon to power mobile engagement applications without battery power. Aruba Sensor also allows all enterprises - whether they are Aruba Wi-Fi customers or not - to remotely manage their Aruba Beacon deployments over their existing Wi-Fi infrastructure.
Dual band 802.11n 1x1 client radio (network connectivity)
Bluetooth Low-Energy (BLE) radio (indoor positioning, provisioning)
Advanced Cellular Coexistence (ACC)
Direct AC power plug-in, and option to power over USB
Lock and optional tamper-proof casing


Remote management tools
Easily manage Aruba Beacon data such as battery life, power settings, and security without having to go onsite.


Easily scale deployments
Turn your proof-of-concept into a multi-location deployment by pulling beacon data into one centralized location.


Works on any Wi-Fi
No need to alter your existing Wi-Fi infrastructure; Aruba Sensor connects as a client to your existing Wi-Fi network.
Benefits:
Aruba Sensor
The Aruba Sensor plugs directly into an AC outlet and can hear other Aruba Beacons within a 25-meter range and reports relevant data over Wi-Fi to a cloud-based management system (called the Meridian Editor).
Aruba AS-100 enables the capability to centrally manage Aruba Beacons available to any venue, regardless of their wireless network vendor, so that they can manage an Aruba Beacon-based Mobile Engagement solution quickly and easily from a convenient location.
The multivendor Aruba Sensor allows larger venues with an extensive Aruba Beacon deployment to easily manage all of these devices without having to go on-location to individually check each beacon or alter their existing wireless infrastructure.
Configuring the Aruba Sensor
Venues use the same tool to configure their Aruba Beacons and Aruba Sensors - a mobile app called the Aruba Beacons App. The Aruba Beacons App can be downloaded for free to an iOS device. There, venues simply log in using their existing Meridian Editor account credentials.
The Aruba Beacons App associates the Aruba Sensor with the appropriate Meridian account's venue maps so that you can place the Sensor on a digital map that corresponds with its physical location. The app also provides an interface to connect the Aruba Sensor device to the venue's existing Wi-Fi network.
After the initial one-time configuration, the Aruba Sensor will then automatically send Aruba Beacon data at regular intervals over the Wi-Fi to the Meridian Editor where venues can remotely access it.
Enterprise-Grade Beacon Management
Large Aruba Beacon deployments require centralized management tools that reduce operating expenses and allow public-facing venues - regardless of their existing wireless infrastructure - to engage in a BLE beacon-based mobile engagement strategy.
The Multivendor Aruba Sensor works together with the Meridian mobile app plaform, Aruba Beacons app, and Aruba Beacon hardware to provide venues with a complete, enterprise-grade Mobile Engagement solution that is easy and intuitive to deploy and maintain.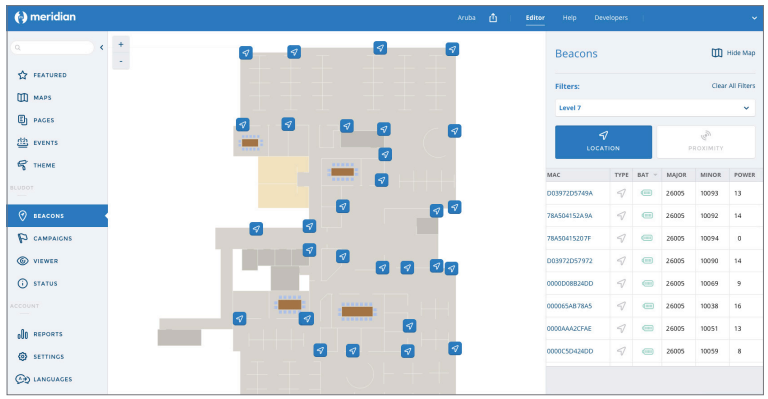 Beacons management dashboard
How It Works:
After initially configuring Aruba Sensor and plugging it into a venue's AC outlet, Aruba Sensor automatically sends the data of all Aruba Beacons within range to the Meridian cloud server over the venue's existing Wi-Fi connection.
Aruba Sensor automatically sends updated data on a beacon's battery life, status, settings such as power level, and campaigns to one centralized location - the cloud-hosted Meridian Editor. This means that venues can simply log in to the same cloud-based content management system to both manage their app content and change the nature of their physical beacon hardware.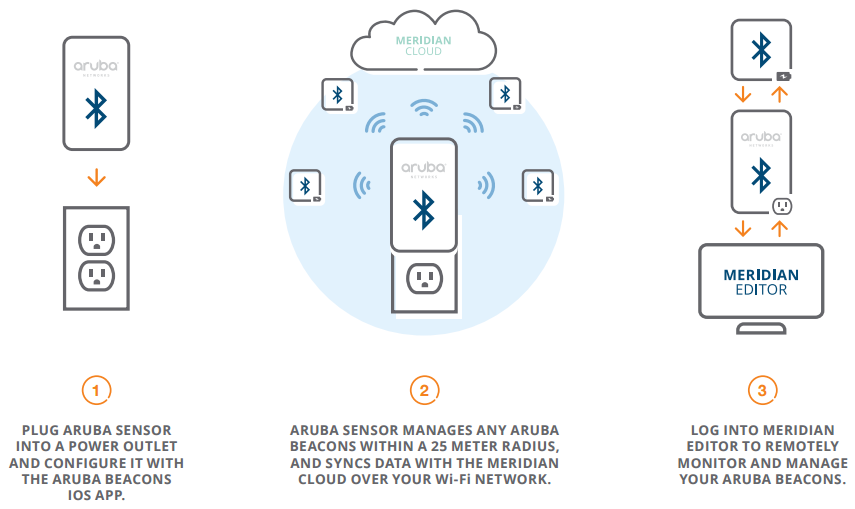 Specifications:
Aruba AS-100 Sensor Specifications

Product Models

AS-100-xx: Aruba AS-100 Wireless Sensor, 802.11n 1x1:1, BLE (xx = NA/EU/UK/CN for region specific AC power plug)

Operating Modes

Acts as a client to the wireless network
Network managed BLE beacon for client-based indoor positioning services

Wi-Fi Radio Specifications

Radio type: indoor, dual-band client radio, 5 GHz or 2.4 GHz 802.11a/b/g/n 1x1
Software-configurable radio supports 5 GHz and 2.4 GHz
Maximum data rate of 72.2 Mbps (HT20) or 150 Mbp (HT40)
Supported frequency bands (country-specific restrictions apply):

2.400 GHz to 2.4835 GHz
5.150 GHz to 5.250 GHz (U-NII-1)
5.250 GHz to 5.350 GHz (U-NII-2)
5.470 GHz to 5.725 GHz (U-NII-2E)
5.725 GHz to 5.850 GHz (U-NII-3 / ISM)

Available channels: Dependent on configured regulatory domain
Dynamic frequency selection (DFS) optimizes the use of available RF spectrum
Supported radio technologies:

802.11b: Direct-sequence spread-spectrum (DSSS)
802.11a/g/n: Orthogonal frequency-division multiplexing (OFDM)

Supported modulation types:

802.11b: BPSK, QPSK, CCK
802.11a/g/n: BPSK, QPSK, 16-QAM, 64-QAM

Transmit power (conducted): 10 dBm

Excludes antenna gain (2.3 dBi/3.7 dBi for 2.4 GHz/5 GHz)
Power may be restricted to comply with local regulatory requirements

Advanced Cellular Coexistence (ACC) minimizes interference from cellular networks
Short guard interval for 20 MHz and 40 MHz channels
Space-time block coding (STBC) for increased range and improved reception
Low-density parity check (LDPC) for high-efficiency error correction and increased throughput
Supported data rates (Mbps):

802.11b: 1, 2, 5.5, 11
802.11a/g: 6, 9, 12, 18, 24, 36, 48, 54
802.11n: 6.5 to 150 (MCS0 to MCS7)

802.11n high-throughput (HT) support: HT 20/40

Other Interfaces

AC power interface, supporting multiple region-specific plugs

Plug shipping with unit defined by part number
AC power voltage range: 90V - 265V
AC power frequency range: 47 Hz - 63 Hz

USB 2.0 device interface (micro-B type connector) for DC power (5V, USB standard)
On/off push-button power switch
Bluetooth Low Energy (BLE) radio

Up to 4dBm transmit power (class 2) and -94 dBm receive sensitivity
Integrated antenna, 0.3 dBi gain

Visual indicator for system status (bi-color LED)
Reset button: factory reset (during device power up), LED on/off toggle (during operation)
Serial console interface (custom, compatible with AP-CBL-SER)
Kensington security slot

Power

Maximum (worst-case) power consumption: 1.6W (from USB) or 2.2W (from AC)
When both power sources are available, DC (USB) power takes priority (no current drawn from AC)

Mounting

The device ships with a region-specific AC power plug that can be used to insert the sensor directly into an AC power outlet. A simple rotating bracket is provided to optionally secure the sensor to the wall once it's plugged in.
When the device is DC powered using the micro-B USB interface and a USB cable (1m cable supplied), the wallmount bracket can be used to secure both the sensor to the wall and the USB plug in the device. A special key is needed to remove the sensor from the bracket and to disconnect the USB cable.

Mechanical

Dimensions/weight (unit, excluding mount accessories, AC plug):

80 mm x 48 mm x 29 mm (W x D x H)
65g

Dimensions/weight (as shipping):

160 mm x 120 mm x 58 mm (W x D x H)
240g

Environmental

Operating:

Temperature: 0° C to +50° C (+32° F to +122° F)
Humidity: 5% to 95% non-condensing

Storage and transportation:

Temperature: -40° C to +70° C (-40° F to +158° F)

Regulatory

FCC/Industry of Canada
CE Marked
R&TTE Directive 1995/5/EC
Low Voltage Directive 72/23/EEC
EN 300 328
EN 301 489
EN 301 893
UL/IEC/EN 60950
EN 60601-1-1 and EN 60601-1-2

For more country-specific regulatory information and approvals, please see your Aruba representative.

Reliability

MTBF: 3,377,198 hrs (386 yrs) at +25° C operating temperature

Regulatory Model Number

AS-100 (all variants): LSIN0100

Certifications

CB Scheme Safety, cTUVus
Bluetooth SIG interoperability certification

Warranty

Aruba limited lifetime warranty

Minimum Software Versions
Wireless Radio Specifications:
RF Performance Table
Maximum transmit power (dBm) per transmit chain
Receiver sensitivity (dBm) per receive chain
2.4 GHz - 802.11b
1 Mbps
10.0
-86.0
11 Mbps
10.0
-84.0
2.4 GHz - 802.11g
6 Mbps
10.0
-86.0
54 Mbps
10.0
-71.0
2.4 GHz - 802.11n HT20
MCS0/8
10.0
-86.0
MCS7/15
10.0
-67.0
2.4 GHz - 802.11n HT40
MCS0/8
10.0
-83.0
MCS7/15
10.0
-64.0
5 GHz - 802.11a
6 Mbps
10.0
-86.0
54 Mbps
9.0
-71.0
5 GHz - 802.11n HT20
MCS0/8
10.0
-86.0
MCS7/15
9.0
-67.0
5 GHz - 802.11n HT40
MCS0/8
10.0
-83.0
MCS7/15
9.0
-64.0
Maximum capability of the hardware provided (excluding antenna gain). Maximum transmit power is limited by local regulatory settings.
Documentation:
Pricing Notes:
All Prices are Inclusive of GST
Pricing and product availability subject to change without notice.