Aruba ClearPass Guest

A ClearPass Policy Manager Application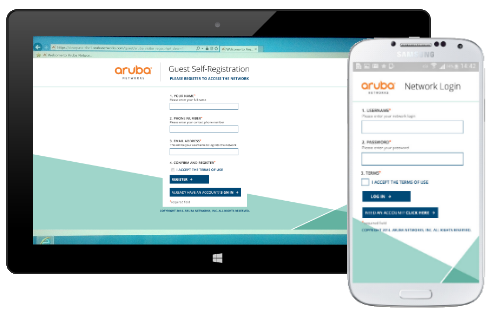 Aruba ClearPass Appliances
Guest License for Aruba ClearPass Policy Manager
Guest License for Aruba ClearPass Policy Manager - 100 endpoints
Guest License for Aruba ClearPass Policy Manager - 500 endpoints
Guest License for Aruba ClearPass Policy Manager - 1,000 endpoints
Click here to jump to more pricing!

Please Note: All Prices are Inclusive of GST
Overview:
ClearPass Guest lets you give customers, contractors and other visitors secure guest access to wireless and wired networks. Whether you have 25 or 25,000 guests, you'll create a rich guest experience and easily manage visitor access privileges.
ClearPass Guest is a scalable, easy-to-use visitor management solution that delivers secure automated guest access workflows for visitors, contractors, partners, shoppers and fans on wireless and wired networks using any type of mobile device. Self-registration and sponsor involved options ensure credentials and pre-authorised access privileges are enforced for short-term and long-term guests, without putting a heavy burden on IT, receptionists and staff. Once registered, credentials can be delivered via SMS text, email, or printed badges. Accounts can be set to expire automatically after a specified number of hours or days.
Designed for organizations of all sizes, Aruba's ClearPass Guest solution offers the security and automation to support hundreds or thousands of guests, while also reducing the threats that come with unauthorised guest access and possible risks.
Enterprise-grade security and controls
Login and traffic encryption options for public networks are included with ClearPass Guest. Automated policy enforcement and quality-of-service controls allow guest access without compromising internal network security and performance.
Create a customized guest access portal
We make it easy to create a customized guest web portal using your organization's logo and other distinctive brand elements. It's equally simple to create unique data-entry fields for guest names, sponsors, email, mobile numbers and acceptance of use.
Make it easy to register
Self-registration, social logins and sponsor options ensure guest access credentials and privileges are enforced for all without burdening your IT helpdesk.
In-browser advertising
Engage your guests with targeted web-based content and advertising to promote mobile device apps, new products, and special customer loyalty offers.
Features:
Self-registration - highly customizable guest portal provides easy-to-use registration process that also deters unwanted users from requesting access
Customizable branding - logos, visual imagery and optional advertisements provide an opportunity to extend company messaging and promotional offers
Automated credential delivery - registration process can deliver SMS text, email or printed credentials depending on security requirements
Mobile device awareness - captive portal is automatically sized for smart phones, tablets and laptops
Industry leading scalability - enterprise and high capacity guest modes provide options for an type of organiztion
Secure guest access - industry's only login and traffic encryption option for public networks
Social logins - functionality that enables retailers and public venues to gather valuable demographics about guests that opt-in to guest Wi-Fi using Facebook, Twitter credentials
Third-party integration - customizable workflows using rest-based API's for delivering streamlined registration and payment system integration for hospitality and healthcare
Hotspot management - built-in support for commercial oriented guest Wi-Fi hotspots with support for credit card billing
Advanced Guest Features
Highly customizable guest portals
Customizable login pages provide the ability to display the latest corporate branding, messaging and promotional offers. The ability to display separate captive portals where multiple departments, stores or divisions exist is also supported. Data entry field customization allows for capturing additional information about guests, support for rotating background images and a variety of built-in remediation pages allow full portal customization for a variety of business uses. Acceptance of Use acknowledgement is also supported.
Social logins
Built-in support for functionality that enables retailers and public venues to gather valuable demographics about guests that opt-in to guest Wi-Fi using Facebook, Twitter and other social media credentials.
Advertising services
Built-in advertisement module and support for external services enables marketing organizations to easily promote special offers, multimedia content and mobile applications each time a guest registers for credentials.
Third-party Integrations
Automate the generation of guest credentials by integrating ClearPass Guest with leading property management, patient management and other third-party system such as: Micros OPERA PMS, Protel PMS, Silverbyte Optima PMS, Agilysis Visual One PMS, and more.
Advantage:
ClearPass Guest operates on the ClearPass Policy Manager platform, which offers a core set of authentication, authorization, accounting, and policy enforcement capabilities. This ensures that the platforms scalability, redundancy, management and reporting features can be leveraged for guest and any employee-based policy enforcement needs.
Enterprise-grade security for guest networks
Aruba's EAP-PEAP-Public is the industry's only secure enterprise-grade encryption method for public guest access. Unique authentication method ensures that all guest connections and traffic are encrypted.
Role-based policy enforcement
Guest credentials and access privileges can be customized to enforce bandwidth limits, access to specific resources and length of connections. MAC caching can be also be used to ensure that guests are not repeatedly asked to enter login and passwords each time they re-connect to the guest network for a set period of time.
High-capacity guest support
An optional high-capacity guest (HCG) mode provides the scalability needed for any airport, conference center, or other large venue where guests normally visit for shorter periods than when visiting an enterprise. Capacity of the Policy Manager appliance is doubled in HCG mode.
Advanced Guest Access Capabilities:
Custom branding
ClearPass Guest features customizable guest login pages that create a branded experience for operators and guests. It also supports multiple captive portals for multiple departments and accurately displays information regardless of device type.
Advertising services
ClearPass Guest is an advanced content delivery platform for next-generation hotspots, retailers and businesses that want to create memorable guest experiences. It enables marketing organizations to push out targeted messaging, special offers, multimedia content and web banners. ClearPass Guest easily monetizes Wi-Fi access in public access environments using business intelligence data collection and demographically-targeted advertising delivery.
Compliance and reporting
Comprehensive templates enable organizations to track and create customized guest access reports for auditing and compliance requirements. Detailed reports can also be generated that display guest information per sponsor and operator for internal visibility and tracking.
Scalability
Active clustering technology allows ClearPass to support up to thousands of concurrent users per day, regardless of location within the organization. Simply configure an additional ClearPass Policy Manager appliance and guest licenses to meet desired capacity needs.
Third-party integration
API support - XML/RPC and SOAP API
Cisco IP phone services - Enables visitors to provision ClearPass Guest accounts from their Cisco IP phones
Palo Alto Networks user-ID services - Map source IP addresses to usernames for all non-corporate users authenticated by the ClearPass core RADIUS engine
Ordering Guidance:
ClearPass Guest can be purchased through subscription licensing for 1, 3, or 5 year periods or via perpetual licenses. Optional enterprise licensing enables organizations to selectively choose ClearPass Guest, Onboard or OnGuard based on their immediate licensing needs.
Ordering ClearPass Guest involes the following three steps:
Determine the number of unique visitor devices that will be supported on a daily basis.
Choose the appropriate ClearPass Policy Manager hardware or virtual application to accommodate the total number from above.

In standard mode, you must have adequate Policy Manager capacity to support an accumulative number of devices over a 7 day period.
In HCG mode, both Guest license and the Policy Manager's capacity are refreshed on a daily basis.

Additional Policy Manager appliances can be added to a cluster to support growth and redundancy requirements.
ClearPass Guest Portal Customization:
Your Guests, Your Brand
Give your guest web site a professional look and feel. The Aruba Networks professional services team will leverage your unique brand to create a customized skin for your guest portal that can be conveniently viewed from smartphones, tablets and laptops.
With Aruba, you can offer guests a login experience that reflects your brand and values.
Keep your brand on point by having Aruba professional services create a guest portal that always displays accurately, regardless of the device type and screen size.
Just follow these simple steps
Provide Aruba with your ClearPass subscription ID number (license keys).
Give Aruba a URL from your web site that we can use to design a guest portal template.
Optionally, you may give us a fully-packaged template (HTML, CSS and high-resolution images), which we will convert into a guest portal skin.
What we deliver
Aruba will deliver a skin based off of your existing website design. The skin plugin will be designed to deliver an exceptional user experience when using laptops, tablets or mobile devices. A custom-branded email receipt for credential delivery is also included.
Documentation:
Pricing Notes:
All Prices are Inclusive of GST
Pricing and product availability subject to change without notice.
Guest License for Aruba ClearPass Policy Manager
Guest License for Aruba ClearPass Policy Manager - 100 endpoints
Guest License for Aruba ClearPass Policy Manager - 500 endpoints
Guest License for Aruba ClearPass Policy Manager - 1,000 endpoints
Guest License for Aruba ClearPass Policy Manager - 2,500 endpoints
Guest License for Aruba ClearPass Policy Manager - 5,000 endpoints
Guest License for Aruba ClearPass Policy Manager - 10,000 endpoints
HPE Aruba Services
Aruba 1 Year Foundation Care 24x7 ClearPass GM 100 endpoints
Aruba 1 Year Foundation Care 24x7 ClearPass GM 500 endpoints
#H2WZ3E
Our Price: $1,154.00
Aruba 1 Year Foundation Care 24x7 ClearPass GM 1K endpoints
Aruba 1 Year Foundation Care 24x7 ClearPass GM 2500 endpoints
#H2WX3E
Our Price: $4,616.00
Aruba 1 Year Foundation Care 24x7 ClearPass GM 5K endpoints
#H2XB3E
Our Price: $6,925.00
Aruba 1 Year Foundation Care 24x7 ClearPass GM 10K endpoints
#H2WV3E
Our Price: $11,541.00
Aruba 1 Year Foundation Care 24x7 ClearPass GM 25K endpoints
#H2WY3E
Our Price: $23,084.00
Aruba 1 Year Foundation Care 24x7 ClearPass GM 50K endpoints
#H2XA3E
Our Price: $34,625.00
Aruba 1 Year Foundation Care 24x7 ClearPass GM 100K endpoints
#H2WU3E
Our Price: $57,709.00
For HPE Aruba Services for 3, 4 or 5 years, please contact us!
Guest License for Aruba ClearPass Policy Manager, 1 year
Guest License for Aruba ClearPass Policy Manager, 3 year
Guest License for Aruba ClearPass Policy Manager, 5 year