Aruba CX8400 Switch Series

Modular, intelligent, and highly resilient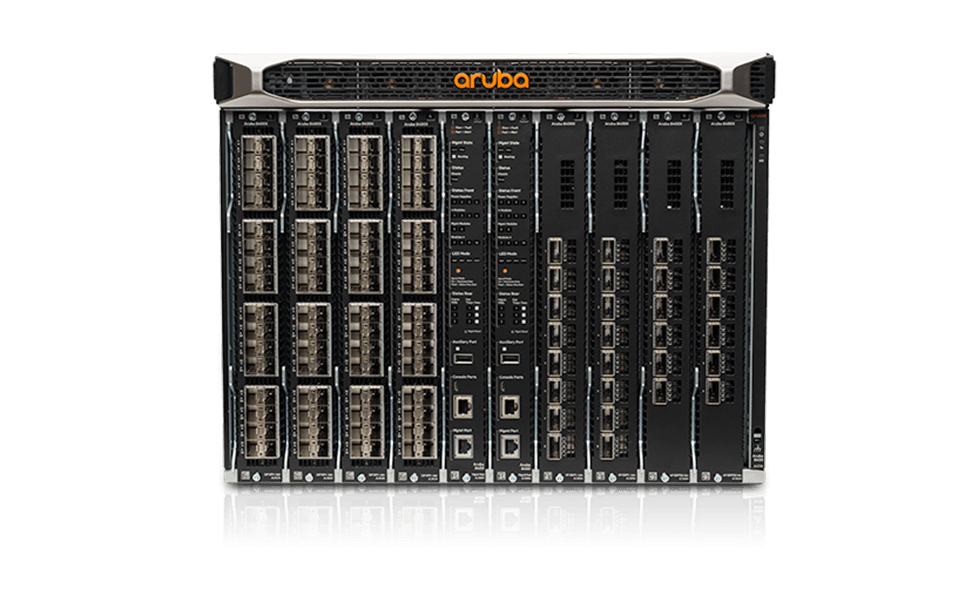 Overview:
The past several decades in networking have been defined by static, closed networking solutions designed for the clientserver era. The Aruba CX 8400 campus core and aggregation switch is a game-changing solution offering a flexible and innovative approach to dealing with the new application, security and scalability demands of the mobile-cloud and IoT era. The Aruba CX 8400 also serves as a data center switch in either a core/aggregation or a leaf/spine topology.
The 8400 provides carrier class high availability with industry-leading line rate 10GbE/25GbE/40GbE/100GbE connectivity in a compact 8 slot chassis. It provides up to 19.2 Tbps of switching capacity based on a fully resilient design that includes redundant fabric, management, power and fans to create a resilient, highly available network that is ideal for the most demanding campus core and data center networks.
Key Features
High performance 19.2 terabits per second switching (1.2Tbps/slot) capacity
Carrier-class high availability with Aruba Virtual Switching Extension (VSX), redundant management, power, and fabric
ArubaOS-CX enables automation and programmability using built-in REST APIs and Python scripts
Intelligent monitoring and visibility with Aruba Network Analytics Engine
Dynamic VXLAN with BGP-EVPN for deep segmentation in data center and campus networks
One touch deployment with the Aruba CX Mobile App
Aruba NetEdit support for automated configuration and verification
Advanced Layer 2/3 feature set includes BGP, OSPF, VRF, and IPv6
Compact 8U chassis with high density, line rate 10GbE/40GbE/100GbE connectivity
Benefits
The Aruba CX 8400 provides the ultimate in modular design and flexibility to address the emerging application, security, and scalability demands of the mobile, cloud, and IoT enterprise.
Simplify your IT operations with AOS-CX
The Aruba CX 8400 Switch Series is based on AOS-CX, a modern, database-driven operating system that automates and simplifies many critical and complex network tasks. Delivering complete network configuration and assurance, Aruba OS-CX key innovations are its microservices-style modular architecture, REST APIs, Python-scripting capabilities, and the Aruba Network Analytics Engine.
No downtime, even during upgrades
Aruba Virtual Switching Extension (VSX) takes a new and innovative approach to solving high availability challenges by combining the best aspects of existing HA technologies, such as multi-chassis link aggregation (MC-LAG) and equal-cost, multi-path (ECMP) routing. Providing a distributed and redundant architecture, it's highly available, with minimal-to-zero traffic loss, even during software upgrades.
Accelerate IT provisioning
Aruba Fabric Composer, a smart, software-defined orchestration solution, simplifies operations, increases network speed, and enhances overall infrastructure provisioning.
Unparalleled visibility and analytics
Get real-time monitoring and troubleshooting with Aruba Network Analytics Engine (NAE). Embedded in every Aruba CX switch, NAE provides the necessary compute and storage to analyze any event that could impact network health. Offering intelligent pre-processing of data, it can turn raw telemetry into actionable insights.
Product Differentiators
ArubaOS-CX
Easy access to all network state information allows unique visibility and analytics
REST APIs and Python scripting for fine-grained programmability of network task
A micro-services architecture that enables full integration with other workflow systems and services
Continual state synchronization that provides superior fault tolerance and high availability
All software processes communicate with the database rather than each other, ensuring near real-time state and resiliency and allowing individual software modules to be independently upgraded for higher availability
Aruba Network Analytics Engine - advanced monitoring and diagnostics - For enhanced visibility and troubleshooting
Aruba NetEdit - automated switch configuration and management
Centralized configuration with validation for consistency and compliance
Time savings via simultaneous viewing and editing of multiple configurations
Customized validation tests for corporate compliance and network design
Automated large-scale configuration deployment without programming
Network health and topology visibility with Aruba NAE integration
Aruba CX Mobile App - unparalleled deployment convenience
Aruba Virtual Switching Extension (VSX)
Continuous configuration synchronization via AOS-CX
Flexible active-active network designs at Layers 2 and 3
Operational simplicity and usability for easy configuration
High availability by design during upgrades including support for VSX Live Upgrade with LACP traffic draining
Performance
High-speed fully distributed architecture
Provides up to 19.2 Tbps switching capacity with up to 7.142 billion packets per second (BPPS) for throughput; all switching and routing is performed in the line modules; meets the demands of bandwidth-intensive applications today and in the future
Scalable system design
Provides investment protection to support future technologies and higher-speed connectivity
Connectivity
High-density port connectivity
Supports up to 8 line modules; a 32-port 10 Gigabit Ethernet with MACsec in hardware (not software), an 8-port 40 Gigabit Ethernet, and a 6-port 40/100 Gigabit Ethernet module.
Jumbo frames
Allows high-performance backups and disaster-recovery systems; provides a maximum frame size of 9K bytes
Packet storm protection
Protects against unknown broadcast, unknown multicast, or unicast storms with user-defined thresholds
Quality of Service (QoS)
Data Center Bridging (DCB)
Supports lossless Ethernet networking standard Priority Flow Control (PFC), Enhanced Transmission Service (ETS) and DCB Exchange Protocol (DCBX) to eliminate packet loss due to queue overflow
Explicit Congestion Notification (ECN)
Mark packets rather than drop them, enabling the receiver to indicate the congestion to the sender, which in turn can reduce its transmission rate as if it detected a dropped packet.
Resiliency and high availability
Virtual private network (VPN)
Generic Routing Encapsulation (GRE)
Enables tunneling traffic from site to site over a Layer 3 path
Management
Management interface control
IPSLA
Industry-standard CLI with a hierarchical structure
Management security
SNMP v2c/v3
sFlow® (RFC 3176)
Remote monitoring (RMON)
TFTP and SFTP support
Debug and sampler utility
Network Time Protocol (NTP)
IEEE 802.1AB Link Layer Discovery Protocol (LLDP)
Dual flash images
Layer 2 switching
VLAN
Bridge Protocol Data Unit (BPDU) tunneling
Transmits STP BPDUs transparently, allowing correct tree calculations across service providers, WANs, or MANs
Port mirroring
Duplicates port traffic (ingress and egress) to a local or remote monitoring port; supports 4 mirroring groups, with an unlimited number of ports per group
STP
Supports standard IEEE 802.1D STP, IEEE 802.1w Rapid Spanning Tree Protocol (RSTP) for faster convergence, and IEEE 802.1s Multiple Spanning Tree Protocol (MSTP)
Internet Group Management Protocol (IGMP)
Controls and manages the flooding of multicast packets in a Layer 2 network
Rapid Per-VLAN spanning tree plus (RPVST+)
Allows each VLAN to build a separate spanning tree to improve link bandwidth usage in network environments with multiple VLANs
Layer 3 services
Layer 3 routing
Security
TAA Compliance
The Aruba 8400, a TAA compliant product, with the ArubaOS-CX uses FIPS 140-2 validated cryptography for protection of sensitive information
Access control list (ACL)
Supports powerful ACLs for both IPv4 and IPv6; ACLs are used for filtering traffic to prevent unauthorised users from accessing the network, or for controlling network traffic to save resources; rules can either deny or permit traffic to be forwarded; rules can be based on a Layer 2 header or a Layer 3 protocol header
Remote Authentication Dial-In User Service (RADIUS)
Eases security access administration by using a password authentication server
Terminal Access Controller Access-Control System (TACACS+)
Delivers an authentication tool using TCP with encryption of the full authentication request, providing additional security
Management access security
Aruba OS CX provides for both on-box as well as off- box authentication for administrative access. RADIUS or TACACS+ can be used to provide encrypted user authentication. Additionally, TACACS+ can also provide user authorization services
Secure shell (SSHv2)
Uses external servers to securely log in to a remote device; with authentication and encryption, it protects against IP spoofing and plain-text password interception; increases the security of Secure FTP (SFTP) transfers
Multicast
Additional information
Green initiative support
Provides support for RoHS and WEEE regulations
Warranty and support