Aruba CX6000 Switch Series

Bring simplicity, reliability, and value to the access layer.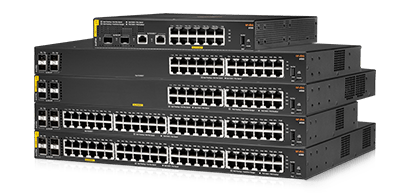 Models:
This Layer 2 Ethernet access switch series brings simple, reliable, and cost-effective enterprise-class connectivity to the edge of your network.
---
Just right for branch offices, mid-market enterprises, and SMBs
The CX 6000 switches bring simplicity, reliability, and value to the access layer.
Simple, secure, and reliable
This enterprise-class Layer 2 switch series is ready for quick deployment with plenty of PoE, speed, and robust security features to safely connect and power your access points, client devices, and IoT.
Right size for your business
Deploy the number of Ethernet ports and PoE power that's best for you and your budget with plug and play 12-, 24-, and 48-port Ethernet models with up to 370W PoE.
Manage it your way
No matter how big or small your network management needs, the CX 6000 has you covered with choices that include easy-to-use Web GUI, CLI, Aruba NetEdit, and Aruba Central (available soon) for single pane of glass management across your enterprise network.
---
Ideal for branch offices, mid-market enterprises, and SMB networks
Entry-level gigabit Ethernet access switches that you can depend on for simple, reliable, and secure connectivity.
Enterprise-class Ethernet Layer 2 connectivity
This high-performance Layer 2 switch with support for ACLs, robust QoS, static routing, and IPv6 is ready to connect users and devices.
PoE and built-in uplinks
Convenient built-in 1GbE uplinks and up to 370W of Class 4 PoE for support of IoT devices and wireless access points.
Quiet and compact 12 port
Fanless 12-port model with four 1GbE uplinks and 139W of PoE is ready for quiet deployment in space constrained areas.
Management flexibility
The fully programmable CX 6000 series supports a choice of management, including cloud-based and on-prem Central (support coming soon), NetEdit, CLI, switch Web GUI, and programmability with AOS-CX operating system and REST APIs.
Built-in security
Integrated trusted platform module (TPM) ensures boot process starts with trusted AOS-CX switches.
Lasting value
Brings lasting value and simplifies ownership with no switch software licensing and Limited Lifetime Warranty.
Download the Aruba CX6000 Series Datasheet (.PDF)