Aruba 2540 Series Switches

IoT ready and cloud manageable access switch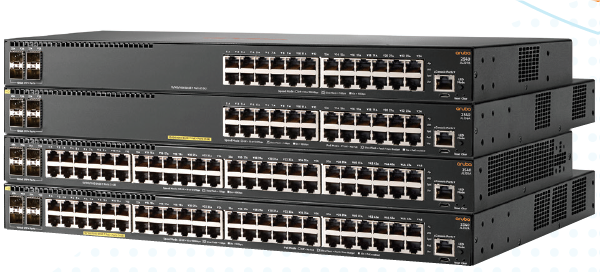 Overview:
Designed for the digital workplace, the Aruba 2540 Switch Series is optimized for mobile users. With advanced security and network management tools-Aruba ClearPass Policy Manager and Aruba AirWave-this layer-2 access switch is easy to deploy and manage. With support from Aruba Central, you can quickly set up remote branch sites with little or no IT support. A powerful Aruba ProVision ASIC delivers performance, robust feature support, and value with flexible programmability for future applications. The Aruba 2540 Switch Series provides a convenient and cost-effective wired access solution that can be quickly set up with Zero Touch Provisioning. PoE+ models deliver power across all access ports for wireless APs, security cameras, and IoT devices.
The 2540 has wire-speed backhaul bandwidth capacity with built-in 10 GbE uplinks, robust QoS, static and RIP routing, IPv6 and includes a limited lifetime warranty with no software licensing required.
Key Features
Aruba Layer 2 switch series with static and RIP routing, ACLs, and robust QoS
Advanced security and network management tools like Aruba ClearPass Policy Manager and Aruba Airwave
Simple deployment with Zero Touch Provisioning and cloud-based Aruba Central support
Convenient built-in 10 GbE uplinks and up to 370 W PoE+
Limited Lifetime Warranty
Features and Benefits:
Unified Wired and Wireless
ClearPass Policy Manager support Unified wired and wireless policies using Aruba ClearPass Policy Manager.
Switch auto-configuration automatically configures switches for different settings such as VLAN, CoS, PoE max power, and PoE priority when an Aruba access point is detected.
User role defines a set of switch-based policies in areas such as security, authentication, and QoS. A user role can be assigned to a group of users or devices, using switch configuration or ClearPass.
HTTP redirect function supports HPE Intelligent Management Center (IMC) bring your own device (BYOD) solution.
Static IP Visibility allows ClearPass to do accounting for clients with static IP address
Quality of Service (QoS)
Traffic prioritization (IEEE 802.1p) allows real-time traffic classification into eight priority levels mapped to eight queues.
Layer 4 prioritization enables prioritization based on TCP/UDP port numbers.
Class of service (CoS) sets the IEEE 802.1p priority tag based on IP address, IP Type of Service (ToS), Layer 3 protocol, TCP/UDP port number, source port, and DiffServ.
Rate limiting sets per-port ingress enforced maximums and per-port, per-queue minimums.
Large buffers provide graceful congestion management.
Connectivity
Flexible 10 Gbps Ethernet connectivity four fixed 10 Gigabit ports (SFP+) available.
Auto-MDIX provides automatic adjustments for straight-through or crossover cables on all 10/100 and 10/100/1000 ports.
IEEE 802.3at Power over Ethernet (PoE+) provides up to 30 W per port that allows support of the latest PoE+- capable devices such as IP phones, wireless access points, and security cameras, as well as any IEEE 802.3af- compliant end device; eliminates the cost of additional electrical cabling and circuits that would otherwise be necessary in IP phone and WLAN deployments.
Pre-standard PoE support detects and provides power to pre-standard PoE devices.
IPv6

IPv6 host Enables switches to be managed in an IPv6 network.
Dual stack (IPv4 and IPv6) Transitions from IPv4 to IPv6, supporting connectivity for both protocols.
MLD snooping Forwards IPv6 multicast traffic to the appropriate interface.
IPv6 ACL/QoS Supports ACL and QoS for IPv6 network traffic.
IPv6 routing Supports static and RIPng protocols.
Security Provides RA guard, DHCPv6 protection, dynamic IPv6 lockdown, and ND snooping.
Performance
Energy-efficient design

80 PLUS Silver Certified power supply increases power efficiency and savings.
Energy-efficient Ethernet (EEE) support Reduces power consumption in accordance with IEEE 802.3az.

Aruba ProVision ASIC architecture is designed with the latest Aruba ProVision ASIC, providing very low latency, increased packet buffering, and adaptive power consumption.
Selectable queue configurations allow for increased performance by selecting the number of queues and associated memory buffering that best meet the requirements of the network applications.
Convergence
IP multicast snooping and data-driven IGMP automatically prevent flooding of IP multicast traffic.
IEEE 802.1AB Link Layer Discovery Protocol (LLDP) facilitates easy mapping using network management applications with LLDP automated device discovery protocol.
LLDP-MED (Media Endpoint Discovery) defines a standard extension of LLDP that stores values for parameters such as QoS and VLAN to configure automatically network devices such as IP phones.
PoE and PoE+ allocations support multiple methods (automatic, IEEE 802.3at dynamic, LLDP-MED fine grain, IEEE 802.3af device class, or user-specified) to allocate and manage PoE and PoE+ power for more efficient energy savings.
Local MAC Authentication assigns attributes such as VLAN and QoS using locally configured profile that can be a list of MAC prefixes.
Resiliency and high availability
IEEE 802.1s Multiple Spanning Tree provides high link availability in multiple VLAN environments by allowing multiple spanning trees; provides legacy support for IEEE 802.1d and IEEE 802.1w.
IEEE 802.3ad link-aggregation-control protocol (LACP) and port trunking support up to 26 static, dynamic, or distributed trunks with each trunk having up to eight links (ports) per static trunk.
SmartLink provides easy-to-configure link redundancy of active and standby links.
Management
SNMPv1, v2, and v3 provide complete support of SNMP; provide full support of industry-standard Management Information Base (MIB) plus private extensions; SNMPv3 supports increased security using encryption.
Zero-Touch Provisioning (ZTP) simplifies installation of the switch infrastructure using the Aruba Activate-based or a DHCP-based process with AirWave Network Management.
Aruba Central support cloud-based management platform offers a simple, secure, and cost-effective way to manage switches.
Manageability
Dual flash images provides independent primary and secondary operating system files for backup while upgrading.
Friendly port names allow assignment of descriptive names to ports.
Find-Fix-Inform finds and fixes common network problems automatically, then informs administrator.
Multiple configuration files allow multiple configuration files to be stored to a flash image.
Software updates free downloads from the Web.
RMON, XRMON, and sFlow® provide advanced monitoring and reporting capabilities for statistics, history, alarms, and events.
Troubleshooting ingress and egress port monitoring enable network problem solving.
Unidirectional link detection (UDLD) monitors the link between two switches and blocks the ports on both ends of the link if the link goes down at any point between the two devices.
Layer 2 switching
VLAN support and tagging supports IEEE 802.1Q (4,094 VLAN IDs) and 512 VLANs simultaneously.
Jumbo packet support improves the performance of large data transfers; supports frame size of up to 9,220 bytes.
IEEE 802.1v protocol VLANs isolate select non-IPv4 protocols automatically into their own VLANs.
Rapid per-VLAN spanning tree (RPVST+) allows each VLAN to build a separate spanning tree to improve link bandwidth usage; is compatible with PVST+.
GVRP and MVRP allow automatic learning and dynamic assignment of VLANs.
Layer 3 services
DHCP server centralizes and reduces the cost of IPv4 address management.
Layer 3 routing
Static IP routing provides manually configured routing; includes ECMP capability.
256 static and 2,000 RIP routes facilitate segregation of user data, without adding external hardware.
Routing Information Protocol (RIP) provides RIPv1, RIPv2, and RIPng routing.
Security
Multiple user authentication methods

IEEE 802.1X Uses an IEEE 802.1X supplicant on the client in conjunction with a RADIUS server to authenticate in accordance with industry standards.
Web-based authentication provides a browser-based environment, similar to IEEE 802.1X, to authenticate clients that do not support the IEEE 802.1X supplicant.
MAC-based authentication authenticates the client with the RADIUS server based on the client's MAC address.

Authentication flexibility

Multiple IEEE 802.1X users per port provides authentication of multiple IEEE 802.1X users per port; prevents a user from piggybacking on another user's IEEE 802.1X authentication.
Concurrent IEEE 802.1X, Web, and MAC authentication schemes per port switch port will accept up to 32 sessions of IEEE 802.1X, Web, and MAC authentications.

Access control lists (ACLs) provide IP Layer 3 filtering based on source and destination IP address or subnet and source and destination TCP/UDP port number.
Source-port filtering allows only specified ports to communicate with each other.
RADIUS/TACACS+ eases switch management security administration by using a password authentication server.
Secure shell encrypts all transmitted data for secure remote CLI access over IP networks.
Secure Sockets Layer (SSL) encrypts all HTTP traffic, allowing secure access to the browser-based management GUI in the switch.
Port security allows access only to specified MAC addresses, which can be learned or specified by the administrator.
MAC address lockout prevents particular configured MAC addresses from connecting to the network.
Secure FTP allows secure file transfer to and from the switch; protects against unwanted file downloads or unauthorised copying of a switch configuration file.
Switch management logon security helps secure switch CLI logon by optionally requiring either RADIUS or TACACS+ authentication.
Custom banner displays security policy when users log in to the switch.
STP BPDU port protection blocks Bridge Protocol Data Units (BPDUs) on ports that do not require BPDUs, preventing forged BPDU attacks.
DHCP protection blocks DHCP packets from unauthorised DHCP servers, preventing denial-of-service attacks.
Dynamic ARP protection blocks ARP broadcasts from unauthorised hosts, preventing eavesdropping or theft of network data.
Dynamic IP lockdown works with DHCP protection to block traffic from unauthorised hosts, preventing IP source address spoofing.
STP root guard protects the root bridge from malicious attacks or configuration mistakes.
Identity-driven ACL enables implementation of a highly granular and flexible access security policy and VLAN assignment specific to each authenticated network user.
Per-port broadcast throttling configures broadcast control selectively on heavy traffic port uplinks.
Monitor and diagnostics digital optical monitoring of SFP+ and 1000BASE-T transceivers allow detailed monitoring of the transceiver settings and parameters.
Warranty and support
Limited Lifetime Warranty See www.hpe.com/networking/warrantysummary for warranty and support information included with your product purchase.
Software releases to find software for your product, refer to www.hpe.com/networking/support; for details on the software releases available with your product purchase, refer to www.hpe.com/networking/warrantysummary